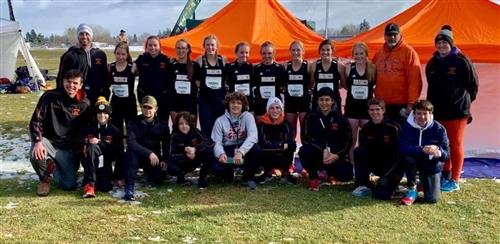 Welcome to Frenchtown High School Cross Country page! It's never too late to consider going out for the cross country team. Especially, if you would like to be part of something special this fall. If you are looking for additional XC information, please email Coach Youngberg at Joseph.Youngberg@ftsd.org. Not to mention, the coaches have set up a Facebook page at Frenchtown Bronc Cross Country/Track that can provide you with the most up-to-date information about meets or summer runs. Parents and students, make sure that you have an updated physical and the correct forms submitted to the high school office prior to the first day of practice!!!
There will be a fall sports parent meeting and a question/answer period during the evening of August 11th at 7 PM in the high school commons area. Make sure to join the FT XC Remind app on your cell phones during that meeting as well. The first practice will be on August 14th-starting at 10 AM. Remember to take part in the summer runs or exercise consistently to help prepare for the upcoming season!
Also, make sure that you have a suitable pair of running shoes, a water bottle, and a runner's mentality for every practice!
Thank you,
-Head High School Cross Country Coach
Joe Youngberg-Assistant High School Cross Country Coach