Frenchtown High School Talent Show tonight at 7pm in the High School auditorium. Free admission.

FTSD School Board Meeting will be online. 01-25-22 @7:00pm. If you should have questions or comments, please plan on attending the meeting in person. If you are uncomfortable or unable to attend in person, then please submit written correspondence. Comments on zoom will not be taken. Thank you.
https://us02web.zoom.us/j/85682127282?pwd=MEZNVmJvbVloVm4xNFlYVUh3QnBnZz09

ICE FISHING CLINIC!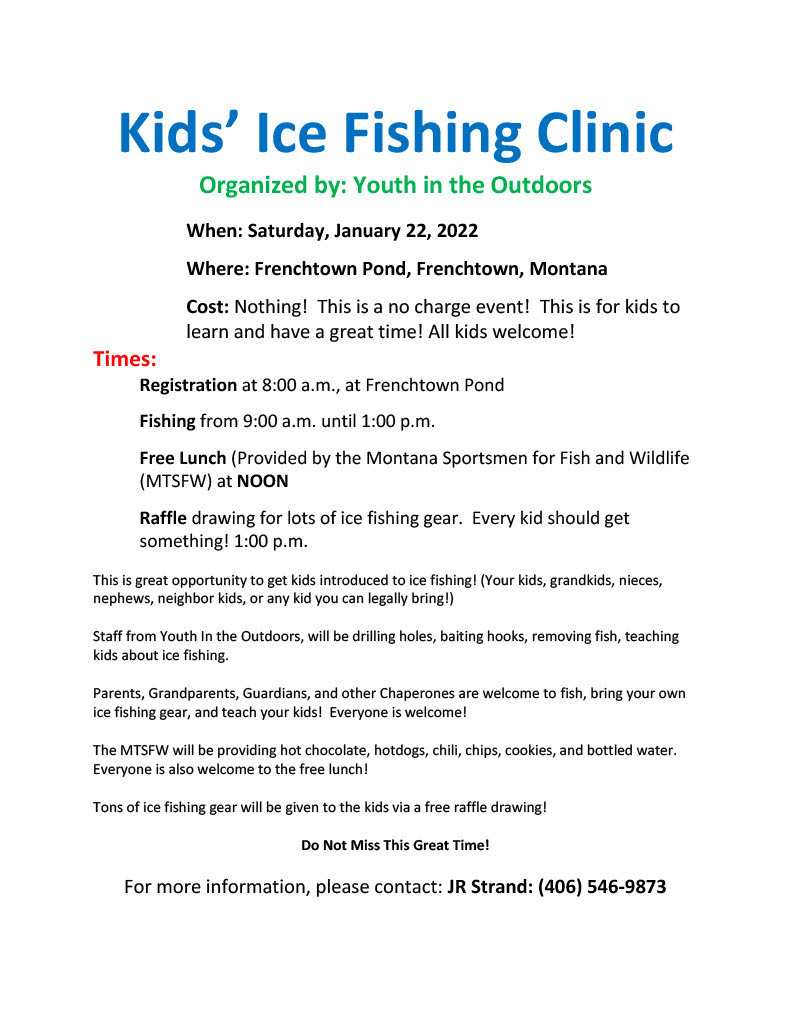 Senior Night for high school wrestlers is Thursday January 27th at 5:30pm.

Thursday 1-20-2022 is a full day of school rather then a half day. Thank you FTSD​

The FTSD Board of Trustees and administration held a special board meeting on Friday, January 14th at 7:00 am where it was decided to move the regularly scheduled board meeting from Tuesday, January 18th to Tuesday, January 25th at 7:00 pm. Thank you.

Hello there, Buses are running, but the freezing rain will cause some pick up times to change and be delayed. A couple buses might have issues running their complete route. Please be careful driving to school or work, wherever that might be. Thank you.

Thursday, January 20th will be a FULL DAY of school. Have a great day!

Hello there, As of this evening, most bus routes will be able to run to full capacity tomorrow. Bus 2 will not run the full route and will not run up Conifer; therefore, Conifer students and Eastgate students will meet the bus at the Elk Meadows turnaround at Wapiti and Six Mile. Nine mile is sanded and Houle Creek are sanded; we are planning on running those routes. We will not run up Fred Lane tomorrow. The Snapdragon intersection is where the bus will meet students. Freezing fog could change our plans. Thanks!

FTSD will not be able to run buses on the two hour delay. We are canceling school for the day. If you have students at school, we will be here and keep them here until they are able to be safely picked up by parents or other arrangements. Thank you.

Hello all, FTSD will attempt to run on a 2 hour delay. We apologize for the late notice. We tried to run buses etc. but it just isn't safe out there right now. Again, sorry for the late notice. Thank you.

Good morning, Buses will run as normal this morning. The main roads have been plowed, but some of the side roads are and will remain a concern. Thanks and have a good day.

​Good morning, The FTSD buses will run as normal as possible this morning. Some routes will run late. Some routes might leave earlier than normal to help with the pickup times. Have a good day!
Hello on this very snowy afternoon! Buses will be running behind schedule as work to deliver everyone home safely. Please be careful out there! 🚌

COLD WEATHER Please send your child to school with a winter coat, snow pants, hat, gloves and snow boots. When the weather is zero and above, students will be going outside for recess. (15 mins a.m. recess, 30 mins lunch recess, 15 mins p.m. recess) If support is needed please reach out to the school. Happy New Year!

Congratulations to our Elks students of the month Sadie Smith and Evan Ellington!
At the Clark Fork River Coffee Company in Frenchtown you will find positive vibes sent to you from our K-5 students on the coffee sleeves. Swing by and find out their wish for you. Happy New Year from the south campus!!! Thank you Frenchtown PTA. #sleevespiration #kindnessrocks #kidsarecool #positivitywins #RiseUp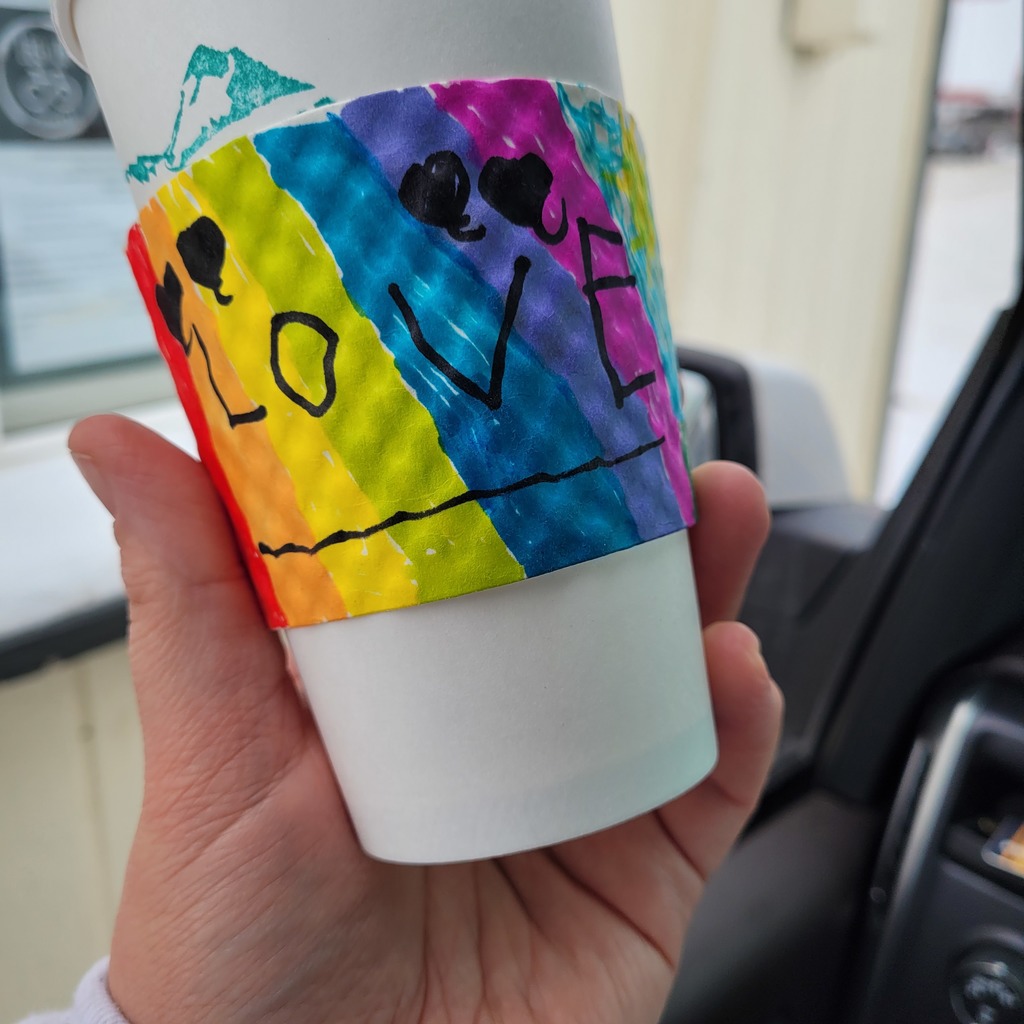 MERRY CHRISTMAS AND HAPPY NEW YEAR FROM FTSD!