Spring Concert Reminder May 2nd 4th and 5th Grade Program, Elephant's Child, starring Jessica Beers, and 5th grade Band 1:00-2:00 Students wear all Black. May 3rd 2nd and 3rd grade Program, Hats! Students wear red, white, and blue. 1:00-1:30 May 4th Kindy and 1st grade, The Principal and the Pea! Students wear green. 1:00-1:30- Kindy Musso, Junyk, Juden Grout, and 1st grade Long and Pavlik 2:00-2:30 Kindy Harris, Geaudry, Spoharski and 1st grade Peterson, Poukish, and Laughnan

Congratulations to our Elk Students of the month for April. Ella Arnold and Kayla Botkin! Students are selected by their teachers and counselors based on academic excellence, community service, school involvement and leadership!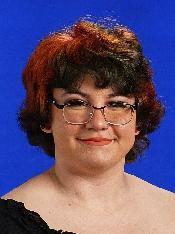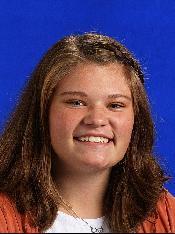 Hello to the Frenchtown Community! Please see the Notice of Annual Election and Mail Ballot Information.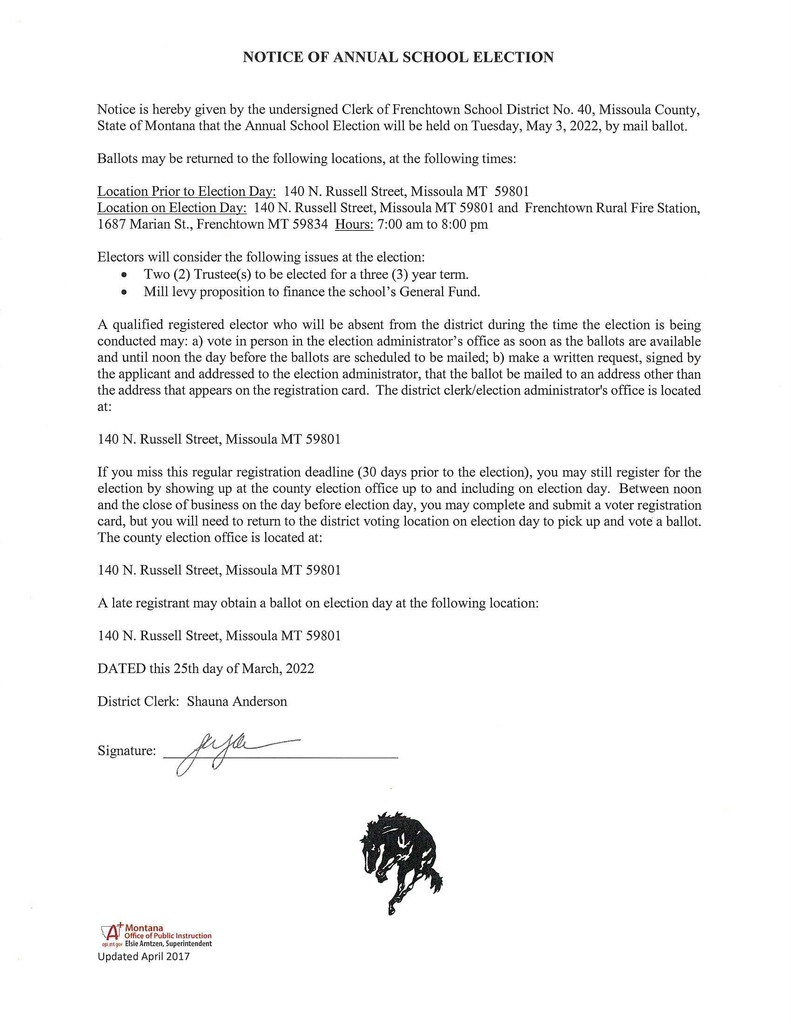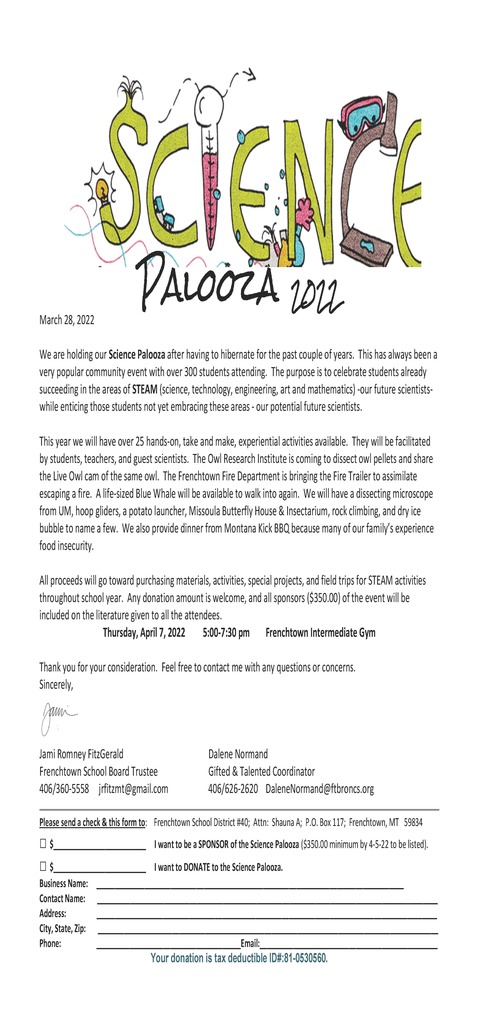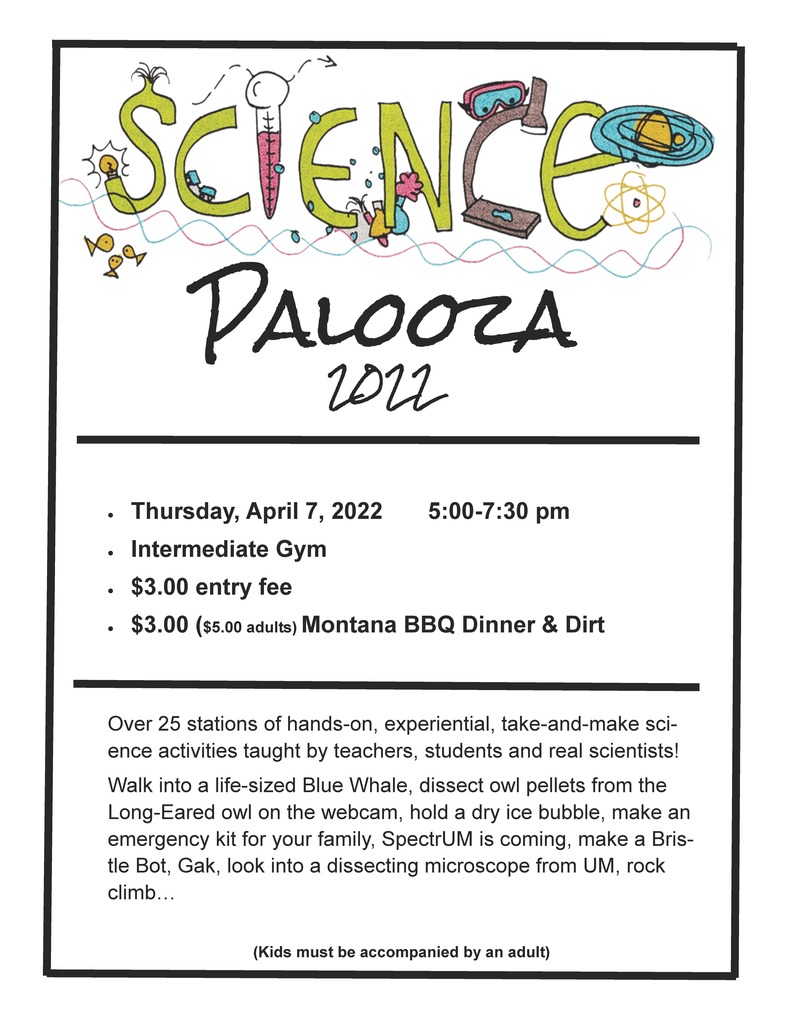 On Monday, March 21st, we are kicking off Connection Week in the K-5. Wear Green to show your support for compassion and connection. We are Frenchtown!

The Dangerous Truth about todays Marijuana: Johnnys life and death story. April 7th 6:00pm-7:30pm, Frenchtown Highschool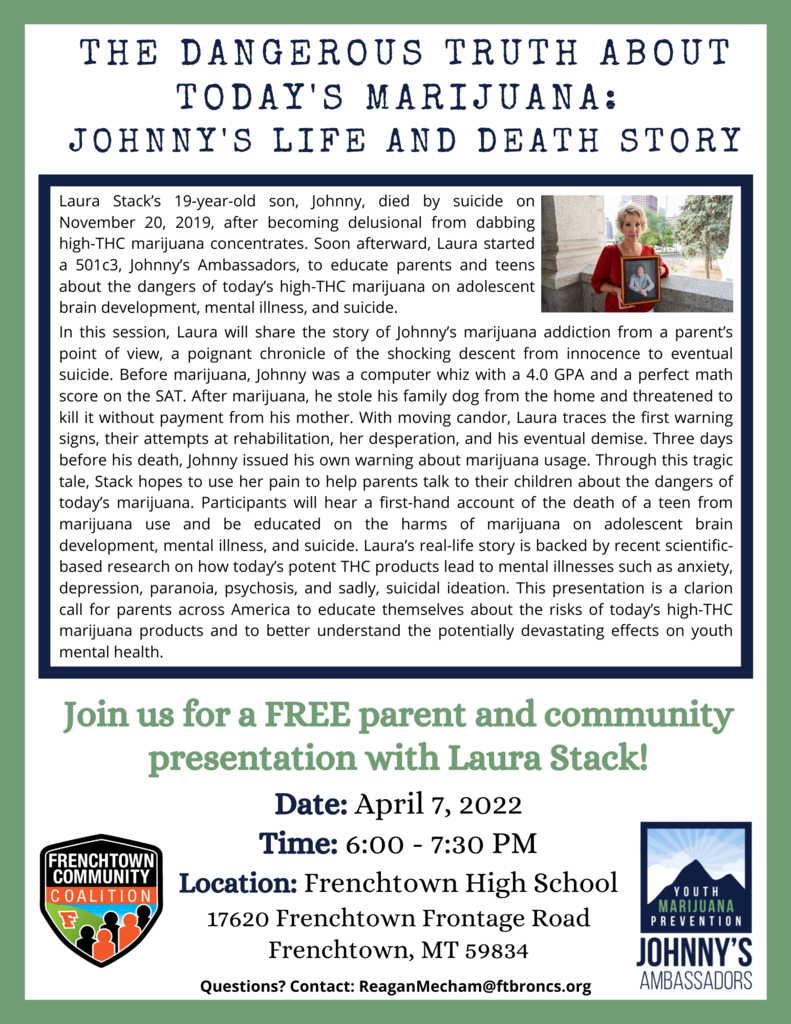 FTSD School Board Meeting will be online. 03-15-22 @7:00pm. If you should have questions or comments, please plan on attending the meeting in person. If you are uncomfortable or unable to attend in person, then please submit written correspondence. Comments on zoom will not be taken. Thank you.
https://us02web.zoom.us/j/85682127282?pwd=MEZNVmJvbVloVm4xNFlYVUh3QnBnZz09

Big Sky Documentary Film Festival and Filmmakers in the Schools at Frenchtown High School! Each year, during the week of the Big Sky Documentary Film Festival in Missoula, the Filmmakers in the Schools program coordinates with local school districts to bring age-appropriate and classroom-relevant documentary selections and in-person Q+As with filmmakers to students, providing them the space to ask questions and make local connections to global stories. Throughout the day on Friday, February 25th, Frenchtown High School teachers had the opportunity to bring classes to the auditorium to view a diverse selection of films, stories, and perspectives and to engage in dialogue over content and the filmmaking process with filmmakers. The filmmakers absolutely LOVED the Q+A and were so impressed by the questions and dialogue that came from our students! Everyone was respectful and attentive, eager to learn from one another. It was an awesome experience for everyone! Thank you to Ms. Shelkey, Ms. Gentry, and Ms. Matter for organizing this great event for FTSD students!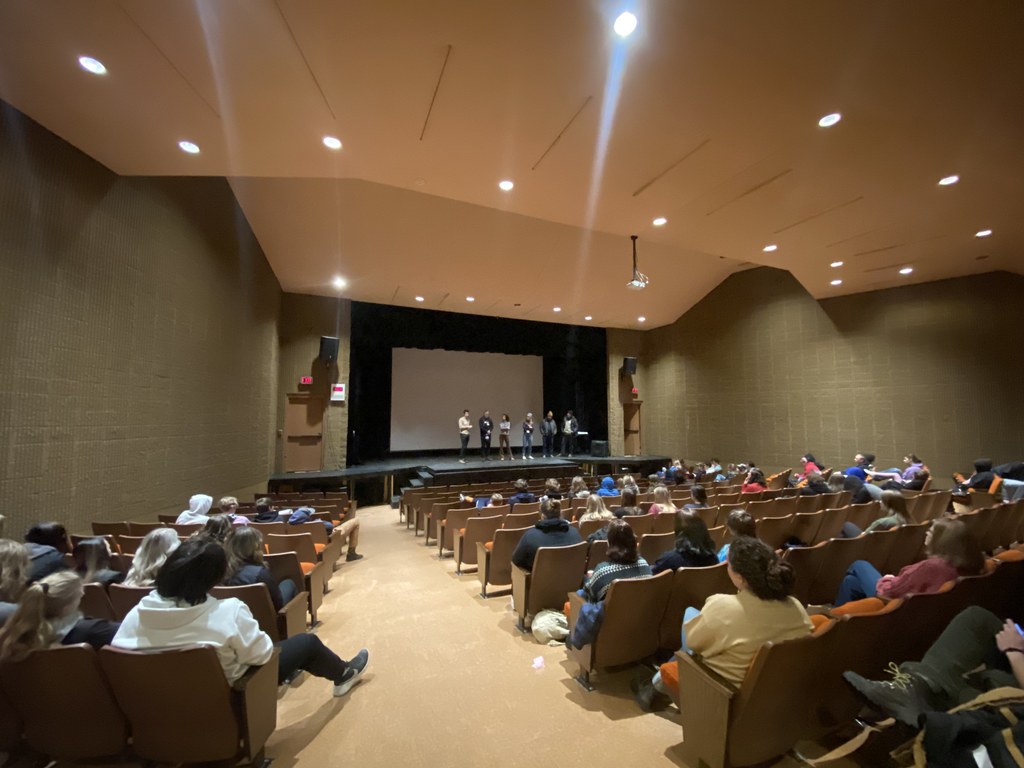 In anticipation of the truck convoy demonstration today: Bus 5 will drop off students at the town pump parking lot near Charlie's Produce at the northeast corner. Since this is in a parking lot and the potential for lots of people and confusion, please personally come to the bus to collect your child. We will let students off the bus once you approach the bus.

Thank you everyone for your patience as we work around all the terrible ice on some of our bus routes. I know this hasn't been easy on everyone. While the ice is improving, I expect we'll have impacts for a couple more days. With this in mind, I wanted to give all families an update on what to expect with their bus schedule this afternoon. All buses will run their regular routes and times with exception of Bus 1 and 14 (6 Mile / 9 Mile Routes). A section of 9 Mile Road from the historic ranger station to the West 9 mile bridge is in poor condition and not safe for bus travel. This afternoon, bus 1, will run its route and turn around at the historic ranger station. It will then continue down West 9 mile Road completing the rest of its stops. Bus 14 will travel its normal route with exception of the bad stretch of 9 mile road. Families west of the 9 Mile Bridge can expect a 10 minute delay in the afternoon as the bus detours around the bad section of road. Thank you again for your patience while we work to get everyone home safely! Hopefully warmer weather is around the corner! If you have any questions, please contact the school or the transportation department. Thank you! Tucker Eslinger Frenchtown Transportation

Hello all, Students who are on Bus 2 should meet the bus at Eastgate and 6 Mile or students can get on Bus 14 at Conifer and 9 Mile. Thanks!

Congratulations to Kiana Sivak and Demi Smith! They have been selected as the March Elk Students of the Month!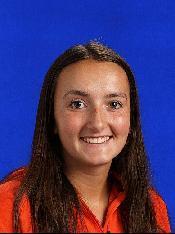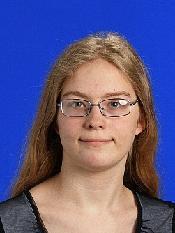 Frenchtown Middle School was well represented at the state FLL Lego Robotics competition held February 26th in Bozeman. Both the 6th grade team, the Shark Gangstaz, and the 8th grade team, the Lightning Commando Squad, advanced from the qualifier meet held February 5th. At the state competition, the Shark Gangstaz had strong robot runs and a great presentation showcasing their innovative project, a secure rural package locker that would increase safety for package delivery drivers, as well as protecting packages from theft. The 8th graders also had strong robot runs and impressed the judges with their innovative project, reusable mailing pouches made from recycled jeans and dog food bags that could reduce package waste by up to 50 percent. Their robot runs, innovative project, along with their demonstration of the FLL core values, earned them the runner-up Champion's Award. This means that they took 2nd place overall out of 52 teams across the state! 6th grade team members are Ean Johnson, Kyla Languanet, Tripp Larson, Zen Peters, Lily Tucker, and Tsimmeej Yang. 8th grade team members are Alyssa Bilbrey, Aleah Knight, Ellie Languanet, Tru Peters, Cooper Stark, and Emma Schwartz. The teams were coached by Dalene Normand.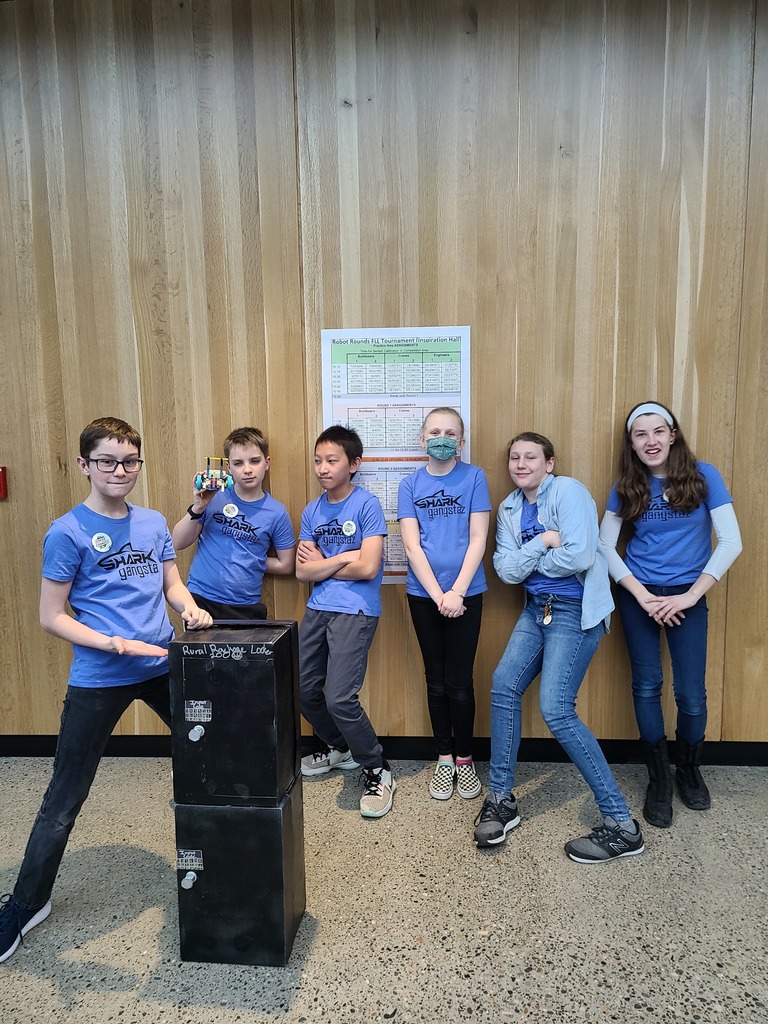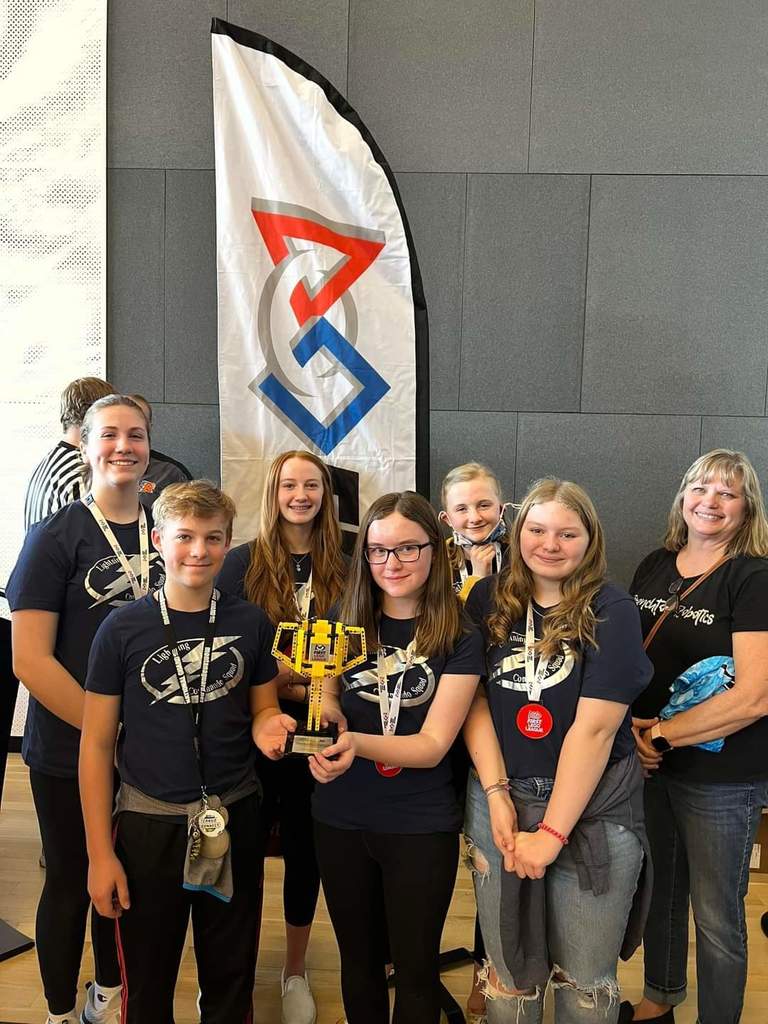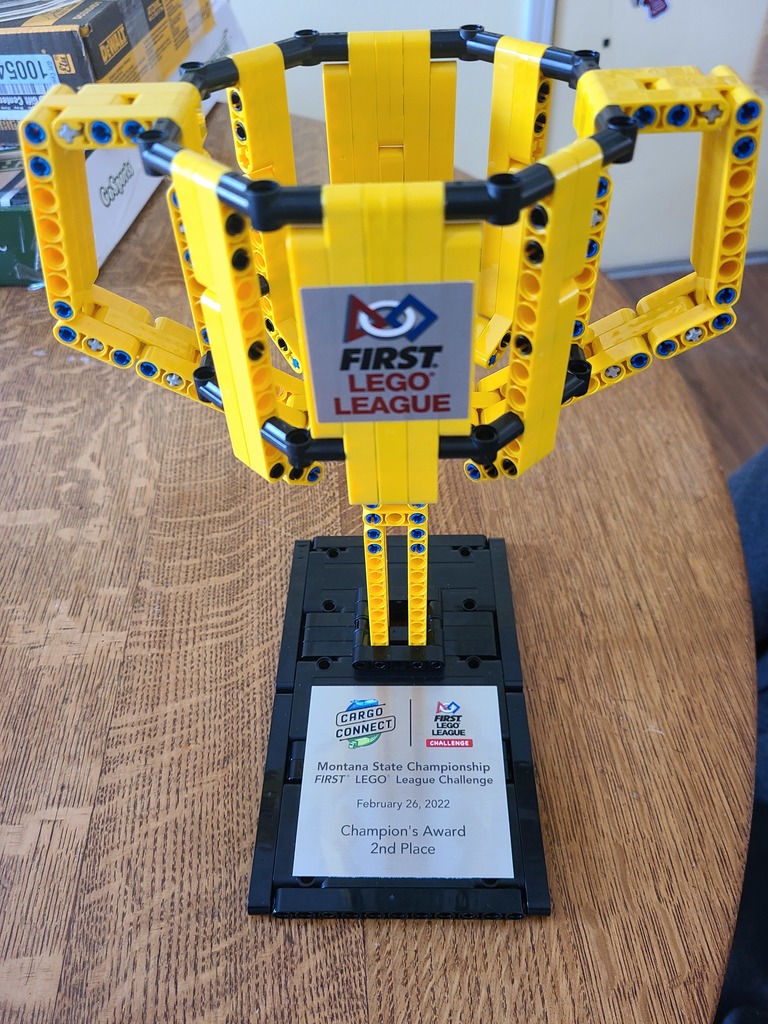 Dear Parents and Guardians: The freezing rain has caused issues this morning and has road prep delayed. We will provide more time for the road prep to take place. We will be running on a two hour delay this morning.
***** ATTENTION ***** We need your help filling these seats! The driver in this seat helps power an entire community, providing transportation for students to and from school, athletic events, and even midday field trips to study biology or even going bowling for the first time. Our Broncs can't do this alone and we need your help! Morning and afternoon routes are available. No CDL? No problem! Why not get paid while you train to earn it?! Please consider giving back to your community by joining this noble cause and join our transportation team! Please send your questions and interest to:
tuckereslinger@ftbroncs.org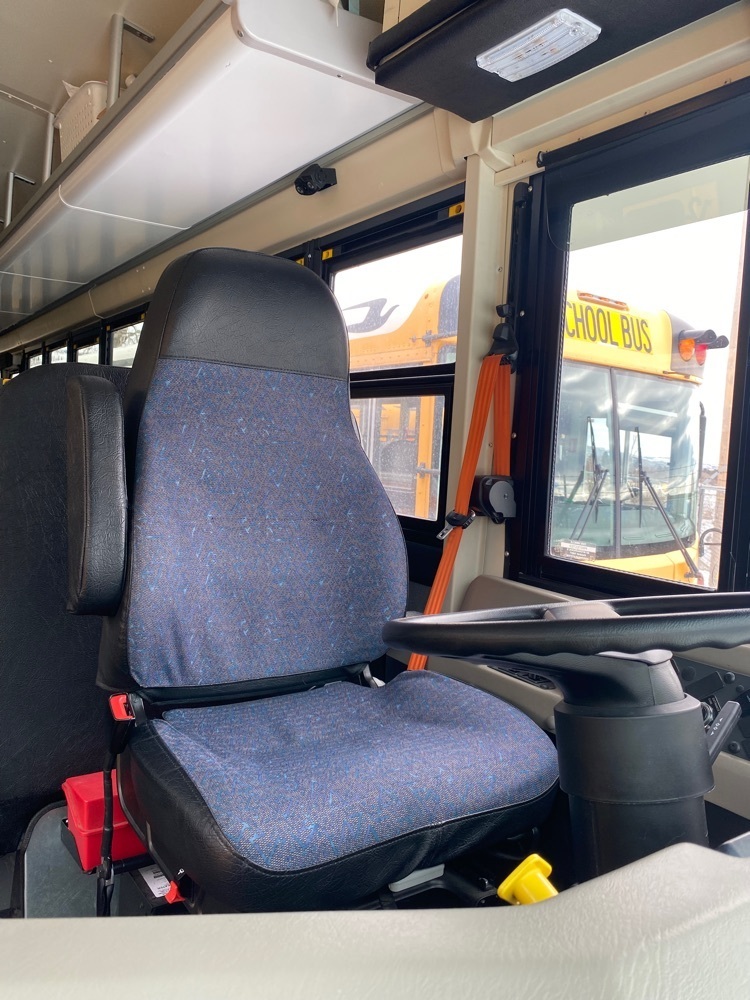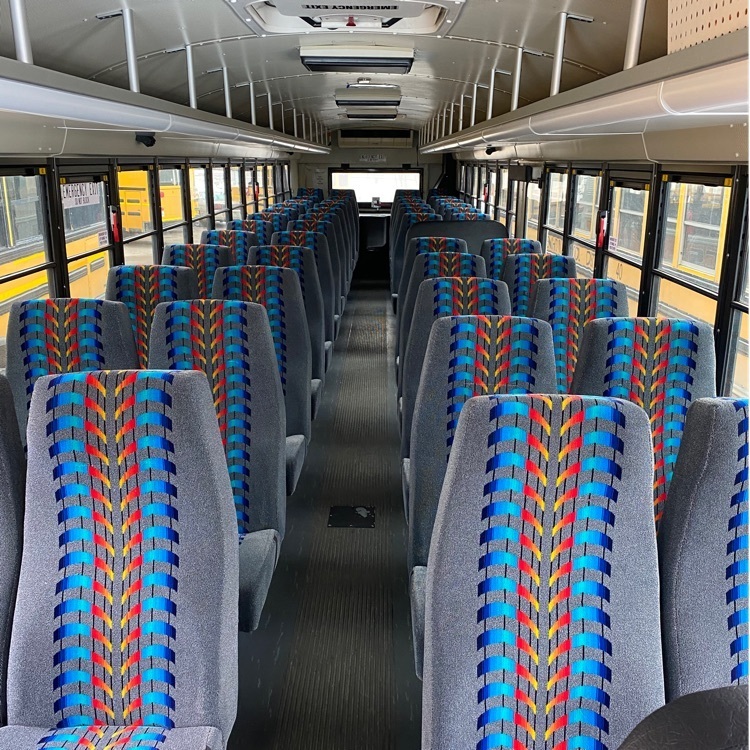 I Love To Read Week at Frenchtown Intermediate and Elementary was amazing! Thank you HS students for coming over and reading to the K-5 kids!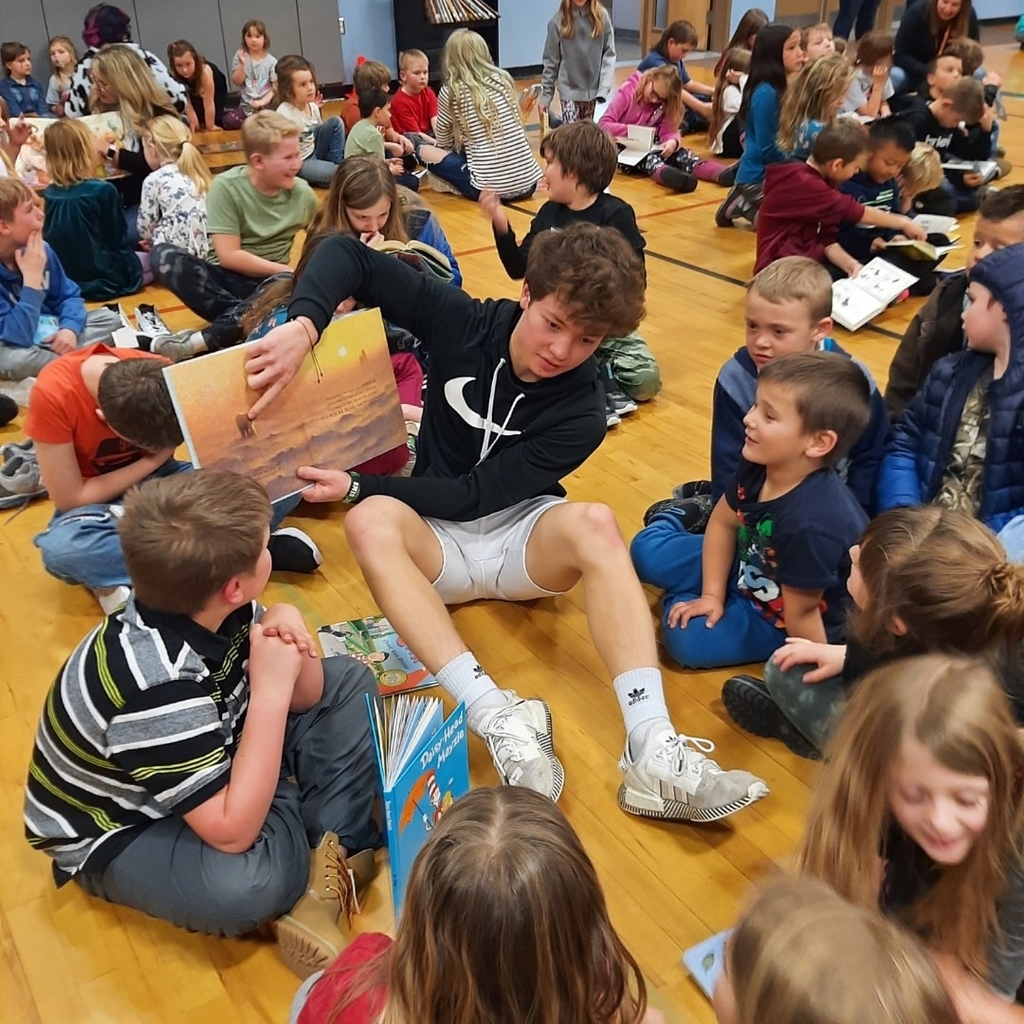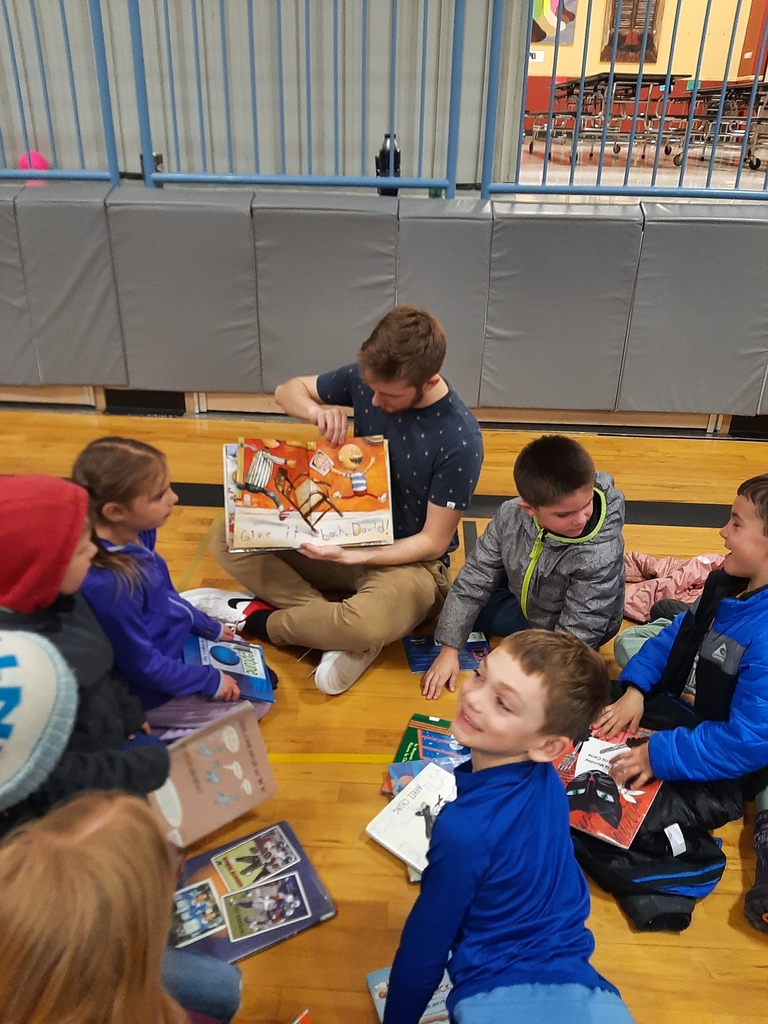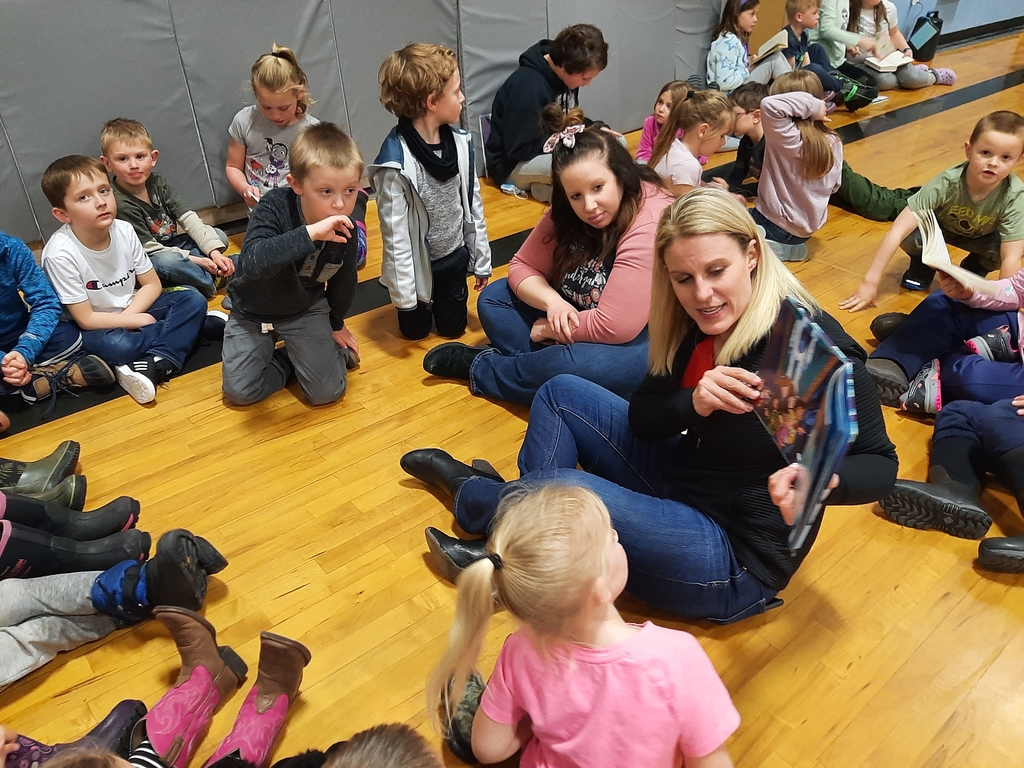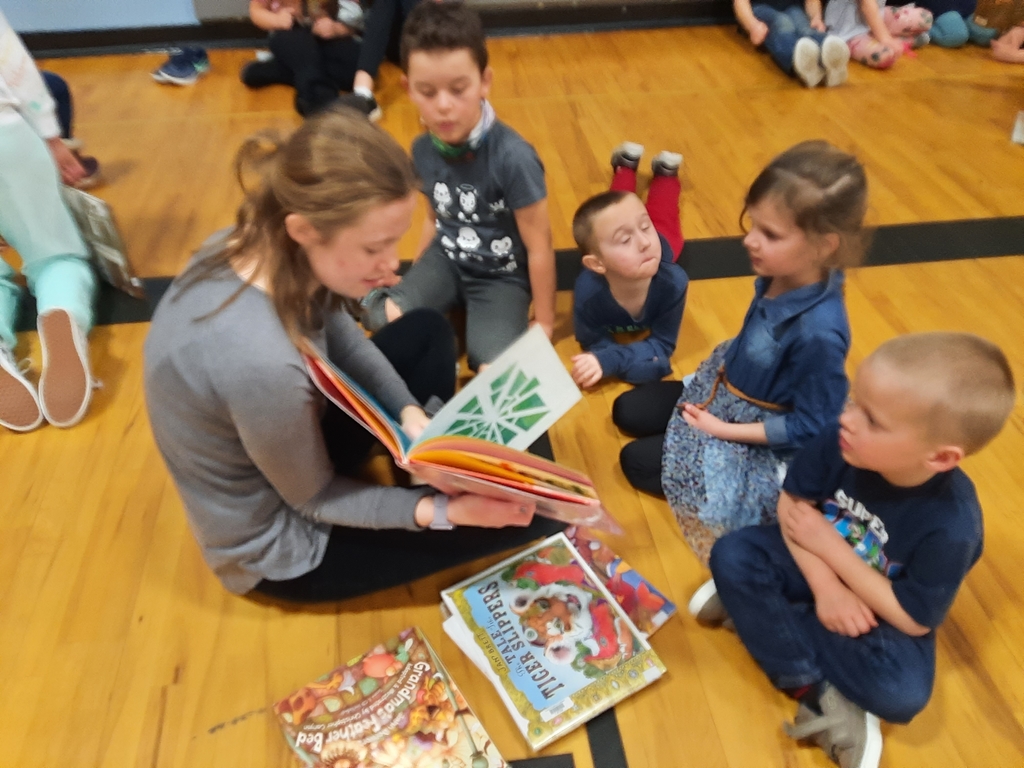 FTSD Special Board Meeting will be online. 02-18-22 @7:45am. If you should have questions or comments, please plan on attending the meeting in person. If you are uncomfortable or unable to attend in person, then please submit written correspondence. Comments on zoom will not be taken. Thank you.
https://us02web.zoom.us/j/81362919371?pwd=SUIyK1FiYzdQdUk0M1RDR2RwalVnUT09